Sep 30, 2013
738
1
372
173
40
Twitter Username
Chaturbate Username
Based on HTML to Image converter
Under the "
online tools
" category we've released a free online HTML2PNG overlay generator .
Social Panel Overlay Generator
(SPOG) is in beta testing but so far it seams it does a pretty awesome job. (if not, let me know)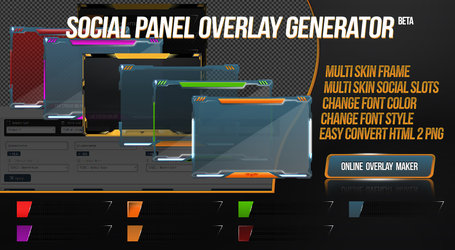 SPOG
is showing a HTML block rendering all editable elements and (upon click) converts edited HTML into downlodable PNG file (image with transparency).
The purpose is "as overlay" - image based overlay compatible with OBS Studio, SplitCam Software or any other 3rd party programs which allow user to add an image overlay on top of live stream.
Already a cliché by now but if you have questions, suggestions, feedback, reach out.
PS: more free tools scheduled to be released .