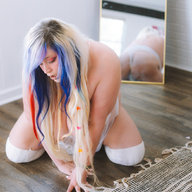 Feb 21, 2020
31
28
6
Twitter Username
Chaturbate Username
So my target audience is toxic. It is primarily men who like to gang up on me and have me do things (mostly through manipulation like "I am going to cancel my OF unless you do it" and all the comments agree) of causing me harm and forcing me to do things I clearly state redundantly I do not want to do. This means my audience is men who get off on my authentic pain.

It is making me upset in real life, not wanting to log on, etc. I have not even gone on CB in 3? weeks now because I just know I am going to get upset because my upset is their horny. I know most people have a super positive and uplifting time with it. Not me. :/ I do not know what vibes I put out but when men gang up on you to insert a banana in your vagina even though you tell them 1. it hurts, 2. YOU REALLY DONT FEEL COMFORTABLE 3. The last insertion video had clear pain on your face, and 4. I did explain possibly causing yeast infection , they still insist on things. And that isnt the worst of it. That is just this weeks demands. Last weeks was they wanted me to get so upset I puked again because "it's hot" .

I just want the positive experiences others have, I want a target audience that isnt so intent on seeing women in pain. I never specialized in BDSM . How do I go about that?