Epic Games' new MOBA is in open beta. And... holy shit does it look great!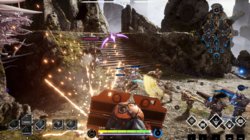 It's a MOBA in the vein of SMITE, third person action oriented, over DOTA2 or LoL's isometric point and click to move style.
It's obviously using Epic's new Unreal Engine 4 technology, and on a 980 Ti I'm able to completely max out the settings and still have super smooth good looking gameplay.
The beta is on the PS4 and the PC, and there's cross play, I believe.
If you're getting into it, lemme know. Maybe we can suck together!