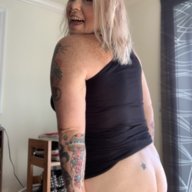 Nov 25, 2014
813
2,617
193
Twitter Username
MFC Username
Streamate Username
Chaturbate Username
Clips4Sale URL
at the end of the day, cam work is liberating because YOU are in control, loving yourself shamelessly, and anyone who tries to use it against you is just a piece of shit that shouldn't be paid any mind. I wish back then I had been able to say "fuck you, so what?" instead of begging him not to do anything. yes, there are sometimes real world consequences like losing your job, having a falling out with your family, etc. because of exposed cam work. these are the risks that must always be assessed. but at the end of the day, no one can take your freedom of expression and autonomy.
This This This! I love it.

This generally how I feel about it. Will people take me at a different face value or possibly discriminate against me because of my work choices? Possibly. Probably even. The ultimate question is how many fucks do I honestly give? Not enough to give up my freedom, creativity, and ability to be my own boss.