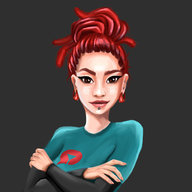 Stripchat.com
Industry Representative
Jun 10, 2019
557
2
749
61
Hey guys!
If you are not familiar with
Stripchat.com
, here is a brief introduction to welcome you aboard.
We are a Live Adult Entertainment Platform featuring free live-streamed webcam performances in both traditional and VR formats. Today, we are one of the most rapidly growing websites in the industry, featuring advanced in-house developed functionality & straightforward, user-friendly models` dashboard.
Long story short, my name's Chloe, and I am here to support & guide you with any questions you may have devoted to Stripchat.com.
Broadcasting modes and 15 ways to make money
:
1. Online tips (Free chat): users can tip you while you're broadcasting as an appreciation or for a request. Make sure you list your activities along with prices in your Tip Menu so that users know how much to pay for each request.
2. Offline tips: users have the option to send you tips even when you are not online.
3. Spy mode: can be used when you are hosting a virtual private mode and do not want your show to exist in public view. It is the perfect way to earn extra money.
4. Private Show: you set your price per minute, and the requestor enjoys a tete-a-tete show with you. However, spies can enter the Private Show.
5. Private Show recordings: you have the option to record your Private Shows and save them to your video gallery. You can also publish them as paid videos and therefore make some extra cash.
6. Group Show: it is very similar to a Private Show; however, an unlimited group of people can join this show. You set your preferred price per minute. Do not forget to let users know whether the show will start immediately or in 10 minutes so that they can prepare themselves for the fun.
7. Ticket Show: it's a regular Group Show but instead of setting your rate per minute, you set a fixed price that users must pay with their tips to join the show.
8. Cam2Cam: it is similar to a Private Show (you also set your price per minute), but the requestor can turn on both camera and microphone, and thus you will see and hear each other. Spies are not allowed to access the show. After the show finishes, the user can keep a recording of it if you`ve enabled this option. You won't be able to save the show.
9. Mobile broadcasting: use your mobile device to broadcast from very different places and interact with your audience.
10. VR: make your stream innovative by updating your standard 2D-video into virtual reality.
11. 3-Hourly Contest: every 3 hours we reward the top 5 earning models with StripPoints and cash prizes. Only online tips counted in the contest.
12. Monthly Contest: depending on how many StripPoints you`ve received during the 3-Hourly Contests, you can win up to $1000 every month.
13. Sell your content: you can create public albums for all users or friends. Moreover, you can create paid albums for anyone willing to pay tokens and access them. Add your best shots and videos, set the price, and receive some passive income.
14. Referral program: A special link, which is available in your dashboard, allows you to bring visitors and earn an extra 20% of ALL their payments made in your room.
15. Fan club: it is a subscription service, which you can enable anytime to get passive income monthly from your loyal fans.
Payouts are made automatically on Tuesdays, and they include earnings from the week before (Monday-Sunday) plus any other overflowing amount from older periods.
We send payments every Tuesday via:
Paxum
ePayService
COSMOpayment
Cryptocurrency
ACH/Direct
Checks
EUR Wire Transfers (SEPA)
We send payments every other Tuesday via:
International Wire Transfers
Your payment will be scheduled once you reach the minimum amount set by each provider:
For Paxum, ePayService, and COSMOpayment the minimum amount is $50
For ACH/Direct, Checks, and EUR Wire Transfers the minimum amount is $100
For International Wire Transfers, the minimum amount is $500
For Cryptocurrencies, the minimum amount is $200
All payout methods are free of charge for models/studios.
Stripchat.com - rolls out the welcome mat for new models.
Join us!
Link to register
Our Twitter
Basic tour for models
Models FAQ
Contacts
:
Tommy Neal
skype: live:.cid.7ac7d8097918079f
e-mail:
tommy@stripchat.com
Chloe
e-mail / skype:
chloe@stripchat.com