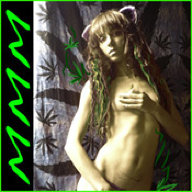 Oct 29, 2010
1,103
3,191
213
I love music.
A lot.
It's right up there with food and water.
And, when i hit upon a tune that particularly tickles me, i tend to play it over and over and over and over and over and over and oveerandovernadoaondoadnaevrvreondaodvoaederbbdaod
BUT!
That song
is always changing. it's not necessarily a "favourite" song of all time or the whole universe but its just
right for right now,
and dangit I
WILL
PLAY IT TWENTY ZILLION TIMES A DAY, i am the boss here.
The point is!
What is your current one?
or two or three? I'm pretty much turning this thread into a diary regardless of what y'all input, so here are my current obsessions.
---
NYUSHA -- Do Not Interrupt.
this shit is in russian. I love russian club music because i am a total weirdo. Bonus though, this video is super hot and features jail, nice colours, dope choreography and hot chicks. From what i can understand via translation, the lyrics themselves are also very yes.
----
NEXT
Booka fucking Shade.
These cats, were some of the cats that made me realize that "HOUSE" music wasn't necessarily garbage-ass dancey whatevers with female sorta soul vocals (no offense to soul singers! i dig that but it ruins house for me...) Anyways I decided to listen to some extra Booka today and now I'm hopelessly replaying these two tracks.
ray:
ray: Booka, I thank your German asses for existing every day for without you i may have forever said that i do not like house. WHICH WOULD HAVE BEEN A COMPLETE AND TOTAL TRAVESTY and hole in the rest of my life forevermore so help me Glob, and I mean this.
ray:
ray:
ONE,
sweet lies,
hooked me mostly because of the video honestly, its a really good tricky video, grimy and beautiful and oh YES!
the other current Booka problem i'm having is with
Solo City.
I mean i'm a total sucker for moody pretty shit like this, and they are just doing such a damn good job of it.
Oh man, I'm starting to have too many ! Okay, i'll pare it down and come back later. (It's because i have PAST obsessionoverplayed songs, that i have to catch you up on. duh.)
I have no idea what's up with this, i heard it on some di.fm station and it just WILL NOT GO AWAY from my brain. ITS SO GOOD WHAT THE HELLLLLLL.... this is the second
SUNSET
that has been an overplayed loved-to-death song for me.
Okay, i'm not going to post Soul Clap right now cuz it's more house, technically. AND I REALLLLLLLY WANT TO POST LILY ALLEN TOO! But I'll hold back! :icon-cry: :icon-cry: Somebody else tell me what song they are overplaying first. :mrgreen: :mrgreen:
HOOK IT UP! I KNOW YOU DO IT!
love ~~