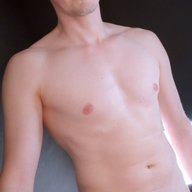 Aug 13, 2020
31
16
6
Twitter Username
Chaturbate Username
Hello everyone.
I am currently considering to make a new profile on CB, where I have already been broadcasting during the last 4 months. I had a very careful start and wasn't aware of the "new" status boost, so I did not go live as much as I would now, knowing about it and seeing what a difference it can make for a good start. I was careful in the sense that I was all fresh to SW and cam modeling, so I only showed myself without face. On top I had a bad camera and light setup, wich I drastically improved quite soon after the first week.

By now I am there with full face, feel much more accommodated, have a few regulars and am still crouching around 350 followers. Not so bad, but I see that many male models seem to reach that or much more in their first week. Not only after four months like me. I also think I may be neither a young young twink nor a muscle stud or hunk or whatever category draws attention easier, but still handsome and charming enough to float some boats out there lol

I have been reading here what I could find on the topic and found that it seems to have been a common strategy and realistic to just make a new profile and verification on CB and get the "new" status again. And I read that since around April this officially and by the rules doesn't work anymore: no new braodcaster profile allowed by CB, or even a "new" status (maybe unless there are very clear reasons for the missed first opportunity).

So I am apprehensive that by making a new profile for broadcasting I could get banned completely, which I don't want to risk. Still I am very tempted to try it to restart and hopefully have a better start with all I know and experienced by now. I am unsure about wether then it would be better to delete my current profile alltogether, or just suspend it, before starting my age verification on the new profile.

Or also, am I overestimating this, would it be more reasonable to stick to my profile, be patient and do the long term work to make it grow from where it is?

I would appreciate your input and sharing of experience and estimation on this topic. Especially when you know any hard facts about how Chaturbate handles this by now, or have made any concrete experience with "new" status on new profile while not being new as a cb broadcaster.

Thanks in advance!

Leon.