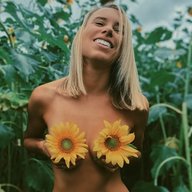 Feb 10, 2019
181
195
33
Twitter Username
MFC Username
Hey everyone
Please feel free to share any relevant tips you have here or things you do with your room that doesn't involve sexual stuff, I'd love to get new ideas
I have seen a few older posts from people asking about how to set boundaries, worrying cause they had no toys, not sure if they should do more than they are comfortable with in order to make money... So I thought I'd share my experience as this month is the month I have consistently held my rank at it's highest (I'm 7 months old in this cam world). I only went below #300 for a couple of days. Im not looking at being in the top 10. I dont want to be famous, but Im proud of myself because I never go beyond my boundaries and I make something like 3 times what I was making in my office job, which I didn't even think was possible as a cam girl.)
In public, I have never ever done a cum show, I have never used toys, I don't spread my butt cheeks to show my asshole, I don't do pussy flash, I don't finger myself, I don't do dirty talk (other than mud, sand, or dirty laundry). Last month was my highest rank and also the month I have done the least privates. I did something like 2. One with a regular I trust, another one just parading in different bikinis. I have nothing against people who do and are ok with all these things, by the way. Respecting yourself is simply respecting your own boundaries, whatever they are. This is just a post to show new cam girls that you can actually be successful without doing things that make you uncomfortable (unless just being on cam is already super uncomfortable, of course).
How to know your boundaries? Well, in my case, I ask myself: If grandma saw this, would I want to end my life? If the answer is yes, we have a boundary.
The furthest I'll go in public is stripping. I love dancing and I will strip naked just like I did when I was a stripper and this is as far as it will ever go. Because that is what I am comfortable with. Maybe you are comfortable with more, maybe you are comfortable will less, but there is a way to make money for anyone who wants to show a little personality and interact like a decent human being with their crowd!! It might take some more time and effort from your part to find your regulars, but you will, even if that means adding people from tags and approaching them yourself. If you have any questions, I love helping people so don't hesitate to ask!