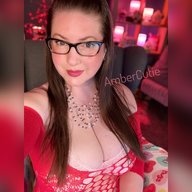 ACF Owner & Admin. (I don't work for CB.)
Staff member
Cam Model
Mar 1, 2010
26,614
1
113,400
0
Twitter Username
MFC Username
I love the spirited vibe around the holidays, so for December I wanted to have a special month in AmberLand and end the year on a fun note! I'll be on cam for most Caturdays during the month in addition to my Mon/Tues/Thurs/Fri schedule, and will have some special prizes for those who make things extra dazzling! Details are below.
Tittens for Mittens! A donation drive to send out warm clothing accessories to various charities around the US. Every tip of exactly 77, or exact multiples of 77 during the event will = 1 item donated!
The top 3 donators will get a special xmas gift from me mailed out before xmas. Reaching special goal points on the Cootie Board's Mitten Meter may result in special events as celebration! The drive is active from Dec 1 through Dec 10, or until we hit the goal total if that comes first!
Each person who participates will get an exclusive "Tittens!" (boobies!) HD video clip.
In yo face wet boobies (vid clip preview image)
Cootie Killers! The top 3 Cootie Killers for all of DecAmber will get a hand sewn Cootie plushie. Special edition: Flowery French Countryside Peons! (Your Cootie may be gifted to another AmberLander if you so choose.)
Xmas Prize Bags! Assuming I am able to be on cam December 23-25, we will have holiday decorated prize bags to tip for with random goodies inside. (More details to come closer to then.)
HTOTM! High Tip of the Month had a little hiatus since August, but it's back for DecAmber! Winner (highest single tip) will get a semi-custom pic set* as well as 2 printed and signed 8x10s from the set, and a thank you card sealed with a kiss.

(*Custom pic set should be made in January, if there are any delays I will make sure to get this completed as soon as possible. Minimum HT is 900tks.)
"Space Heroes of 2015"

: It will be the last chance to go down in AmberLand history as a

Peon Popper

,

Warrior Whacker

,

King Killer

or

Super Sloth

!

(Or Ultimate Space Hero, but let's be realistic here...)

I am retiring the board come 2016. I will post a screenshot in an album on my profile of all my heroes to be remembered for years to come!
Here are previews of each of the bundle vids. Bonus points if you can guess the names of them!
​
And of course throughout the month there will be fun shows added in. Possibilities include: milky shower show, butt plug or anal group show(!), bubblebath hangout, beautiful agony cum show, Sea Monster dildo group show, Rap Friday, and oily fun times. Maybe a baking show with treats raffled off!
I know that schedules can get a little nutty around the holiday season, but I'm excited to spend as much time together as we're able to in AmberLand this month. I'm totally looking forward to a strong ending to 2015, so join me whenever you can! Every bit of support whether it be laughs, fun stories, Tittens for Mittens donations, video bundles or simply cute monkey emotes will make a fun and festive
Dazzling DecAmber
!
Last edited: