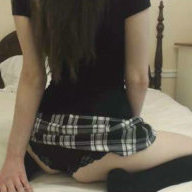 I haven't posted recently, hopefully will be back soon!
Inactive Cam Model
Aug 26, 2015
79
59
28
Twitter Username
Tumblr Username
MFC Username
Hi, so I'm new to this forum (and camming in general) so please bare with me lol. Anyways, I have a few photosets of screenshots floating around that I'd like to take down on at least a couple websites. Here's what's specified as the credentials for filing a DMCA report on these websites:

If you believe that copyright infringement or intellectual property rights have been violated, please provide the following information:

an electronic or physical signature of the person authorized to act on behalf of the owner of the copyright or other intellectual property interest;
a description of the copyrighted work or other intellectual property that you claim has been infringed;
a description or url where the material that you claim is infringing is located;
your current contact information, including telephone number, and email address;
Your statement and good faith belief that the disputed use is not authorized by the copyright or intellectual property owner, its agent, or the law;
Your statement made under penalty of perjury, that the above information in your Notice is accurate and that you are the copyright or intellectual property owner or authorized to act on the copyright or intellectual property owner's behalf.

Please do not send any other notices or communications to the Designated Agent, who is appointed solely for the purposes of receiving notices of copyright claims under the DMCA.

It then has a title and a content section to fill out a DMCA report to have your images taken down. So anyways I was just wondering if anyone could help me and I'm sure this would be useful to other models on here by giving somewhat of a template to fill out this kind of DMCA report as I'm not sure the proper format to do so and have it be accepted, it would be extremely appreciated and thanks in advance to anyone who replies to this post.