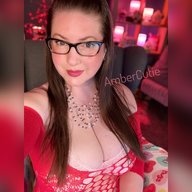 ACF Owner & Admin. (I don't work for CB.)
Staff member
Cam Model
Mar 1, 2010
26,925
1
114,331
0
Twitter Username
MFC Username
What I've noticed is that little crushes from your regs are inevitable. I'm also biased towards the members i have more in common with / enjoy some occasional offline chats. It is human interaction, after all. But as a model, imo, you should be really cautious not to let the lines get blurred.

Remember that Sopranos scene where Tony thinks he's in love with his therapist? It's kinda like that. You become a supportive presence in a lot of your regs' lives, and that might be confusing to some, but 90% of the time it's not malicious, and something anyone with healthy amounts of empathy can understand. It also passes. Most members know full and well that there isn't a chance of romance. What they can expect, however, is a rather genuine friendship. Which is so much more valuable than a skewed hypothetical Pretty Woman fantasy.

I've found myself attracted to a member's personality more than once. That too, passes. The initial awe of having someone new pop in, who's great at conversation and interaction with the rest of the room. The member who makes great jokes, who tips and plays the games you spent time creating for your shows. And ultimately you just have to always instinctively know that your room is a place of work, a place of business. Tippers come and go, and getting too attached is merely setting yourself up for disappointment and hurt feelings.

(Then, every so often, a member comes around and doesn't get it. It's awful every time and while it's uncommon, it's still painful and emotionally exhausting. There is that segment of camsite visitors who seem to genuinely believe the platforms are a dating site. From my experience, they're also the ones who try to woo you into compliance and overspend like crazy, only to then, when they finally end up broke and decide it's time to declare their love like prince charming on a white horse, end up butthurt when you tell them a loud and clear "no".)

Friendships happen, connections are formed, but bottom line is still that camming is a JOB and it's important to keep the right balance / not have the scales tip too much in the wrong direction.

Also, you sound like you have a healthy relationship with the platforms. Good on you, there's nothing worse than members who don't understand the concept of boundaries.
Very well said!