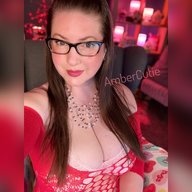 ACF Owner & Admin. (I don't work for CB.)
Staff member
Cam Model
Mar 1, 2010
26,614
1
113,400
0
Twitter Username
MFC Username
Our 2nd Awesomeness, Achievements and Appreciation month is upon us! (AAA!)
(Well, as of midnight tonight it will be!!)
Let's rock the kickoff of Summer by having a super duper AWESOME month full of fun shows and sweet goodies, and aim for the best Miss MFC rank we can accomplish without keeling over... we shall call it JOYFUL JUNE!
Details of special plans and extra goodies below!
:flower:
Videos
:flower:
June Video Bundle =
456 tokens
, available during June only: "Suction Dildo Play", "Comfy Bed Cum", and "Natural Low-Light Strip Dance"
You can find gif previews and more info on my profile at
http://profiles.myfreecams.com/AmberCutie
!
:flower:
Goodies to Buy
:flower:
888 token tip
= Cootie Mousepad, kissed greeting card and printed photo mailed to you!
Panties Auction
= Once or twice during the month I may hold a panties auction, giving away some of my panties to the highest bidders. I'll try them on, show them off, and
start the bidding at 500 tokens per pair
. Keep an eye out for the announcement of when this takes place!
:flower:
Prizes
:flower:
June Bug HTOTDs!
- Highest daily single tip
and
highest daily cumulative tipper will get on the wall as one of my "June Bugs". I'll tweet a fan sign for them the following day. Also, each June Bug on the wall = 1 raffle entry to be my "Summer Sweetie" and get special personalized gift boxes sent to them throughout the following few weeks. Winner pulled during the first day or two of July.
(It is possible for one person to get both June Bugs in one day.)
HTOTM
- High Tip Of The Month can choose one from my special list of HTOTM prizes:
* Semi-Custom Dance Video - 4-8 mins, choose outfit (or naked), and music selection for the video (can be silly OR sexy!)
* Semi-Custom Cum Video - 4-8 mins, choose outfit (or naked), toys (or fingers only) and music selection for the video.
* Semi-Custom Photo Set - 5-15 high quality photos, choose outfit (or naked) and general setting (at my house, preferably)
* 1 Box of Goodies mailed to them - would include snacks and candy, scented panties, trinkets, and a printed photo.
* 1 Month's worth of exclusive iPhone pics - 5-10 pics weekly, taken on my iPhone just for you.
:flower:
Schedule and Special Shows
:flower:
I plan to be on about 4 hours on Monday, Tuesday, Wednesday and Friday evenings, 3-4 hours on Thursday and Saturday afternoons. Off on Sundays. (The 4-6th, as well as the 26-27th, I'll be broadcasting from a hotel room, so the hours may vary quite a bit those days).
Special shows throughout the month - Bikini Week! (8th through 12th), Costume Night, Mirror Dildo Ride, Chocolate Syrup Shower, Oil Dancing, Beautiful Agony Cum, AmPole Fucking, and a Butt Plug Hitachi Cum show.
Can't wait to have a joyful awesome month with you! Drop in anytimeand show some support anyway you can. Laughs and smiles go a long way, too, so don't throw me any "I don't have any tokens" excuses for not hanging out!