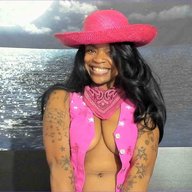 May 24, 2015
6,939
2
14,454
293
41
Twitter Username
MFC Username
Clips4Sale URL
One day you will realize that none of them are actually being serious.
What-a-post.
You don't know what we deal with. Having an entitled member whine to a mutual model friend "Fox doesn't give out her phone number to tippers, because she's paranoid." (So trying to get a fellow model involved in laying on a guilt trip). Because the "Highest tipper gets my phone number" incentive was popular on MFC back in the day.
Ever have a member stop visiting your room because he'd asked "No, what is your
real
name?"...and then he wasn't satisfied with your answer? Yeah, that's not creepy at all.....
Ever have a member ask you "What's the name of the hotel you'll be staying at, because I want to have flowers sent to your room?"
Ever have a member talk about how you "check all of his boxes," and he wants to know if he can "get to know you better outside of this site?"
I'm guessing no.