Although most users have already know, but I need a reality check and discussion. Except for the Independence model, the private messages of model who working for a studio are all answered by the studio operator.
At first I thought that the model was broadcast live in her room. One day, I saw another model liveshow in the same room (but I no pm her). I remember that cam model is also a work. Especially those poor girls who need to earn money. This room is not bedroom or living room, but a studio. She is working at there.
In fact, occasionally I have also observed her one-hand tapping on the keyboard when she typing (?)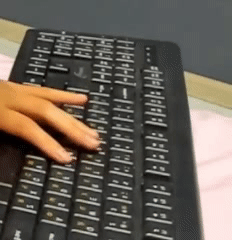 I know she is very slow to type with one-hand, as follows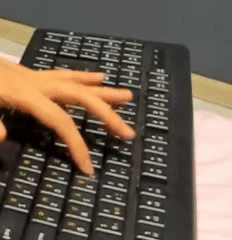 When she close the camera and offline, sometimes use one-handed typing but the keyboard sound is obvious.
About 3 months ago, I once asked her "I never see you use mouse, why you can only use keyboard to select every tipper and message us ?" She has read it, but she didn't reply.
Recently, I saw an article about model and studio on this website. A user in the article, his post reply make me wake up. (thanks him)
In three days, I spent many hours observing her behavior. At first she was performing near the table and than sit on the bed start rub her private parts. When she move to bed, I don't see she take wireless keyboard on bed. Her left hand on the pillow and was blocked by her thigh. (sit on the bed , show her private parts with m-shaped leg pose)
I try to pm her, and she reply me......(no any keyboard sound).
When she take a break, I see she take wireless keyboard to pillow (Although there is no video, there is a keyboard shadow past). I pm her again, and she reply me (still no any keyboard sound). Before offline, she typing some word. This time with obvious keyboard sound. After typing, she look away. Just like send message and wait someone reply from another computer screen(I think she is waiting studio operator )
These days, she become more active. When I join her chat room and have not yet pm her, then she pm me immediately. In addition, I was offline, she send "she is online" to me. This has never happened before, I never feel her so active.
Once I saw her using her mobile phone to watch the video intently without looking at the camera and typing. Is it possible for users to tip over 300 tks to models that have no interaction at all ?
A few moments later, they come back and tip tks again. If there is interaction, I think this interaction is operator with user, not mode with user.
***The following is just my guess***
I guess the studio change a new operator for her. Model(?) become more active. And greetings are default. For example : "hey baby ♥ im on ) come to me ) im waiting for u ♥"
This is new operator is amazing by his/her speaking technique. Once dark/light purple user, diamond, royal, or legend in the chat room, he/she can let them tip lots of token make model do exciting perform to increase viewers and get more following for next amazing lots of token show. NO any keyboard sound, only music, tip sound, rub private parts sound and moan in the room. The operator see these users tipping lots of tokens to gain the model's attention and PM, he/she must feel very interesting and say "Wow, how popular, my message" in his/her mind.
***The above is just my guess***
This model usually viewers about 80~200 one website one day in the past. Recently, her viewers can over 400 and earn 3-4 times tokens more than before (maybe few days ago because a very exciting perform to attract a lot of user and following. Although two thirds viewers are anonymous users or grey, number of viewers can help her get the first page opportunity). Recently, this model add WhatsApp and Snapchat. In my opinion, these are studio operate not her own personal.
" All private messages are replied by the studio operator " & " I always talk with studio operator for up to 3 months " I know that is camshow. That's right. It's a "show".
Well, I admit this fact make me a little heartbroken. I want to hear everyone's idea
I will also report to my roommate later. After he knows the truth, Maybe he will also be shocked by his favorite model's behavior. Yes, you heard me right. About Three days ago, 2 men seriously research behavior of model and studio operator without any erotic idea in front of webcam show screen (We really want get an answer and wake up).
Maybe I will play with her in pvt in the future again and ask her seriously when pvt finsh. "Up until now, who sent me the message? It's You ? or studio operator?" I think I have the obvious answer in my mind.
Maybe I will be banned by her...
Oh no... is maybe will be banned by her operator.
Thank you for reading with patience.