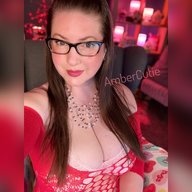 ACF Owner & Admin. (I don't work for CB.)
Staff member
Cam Model
Mar 1, 2010
26,614
1
113,400
0
Twitter Username
MFC Username
When we moved from CA to WA, I did get a new piece of furniture for the new cam room, but overall I kept the same layout as I had at the old house. It totally fit with my usual routine and it made the adjustment to the new house feel less overwhelming to just do things as I always had.
But it started to feel really stale and cluttered. Being in that room made me feel a bit anxious and cramped. And sitting on the floor during every shift was really starting to give me some aches and pains. It wasn't until I did a kitchen/cooking cam show in the middle of March that it really dawned on me that if I had a more comfortable arrangement in my cam room, that I'd feel better during and about my cam shifts.
I needed a chair and a proper table. This meant I had to change the whole layout of my cam room, as it was set up with two 32" TVs as monitors for my desktop computer, and clearly I can't sit with my face just inches away from them. But I've been spoiled with that incredible setup since 2009... it was a scary thought moving to a laptop! It needed to be done, nonetheless. I needed to make the switch.
So the daybed has been moved into another room. The TVs are going in storage. The picnic style table is out. The closet has been organized so that I don't have random stuff laying everywhere.
The focal point of the back wall is now my fun high heel chair, flanked by 2 stylish shelf lamps. A smaller table is now the home for my 15.6" laptop, and I have a comfy armchair that's been rigged up with some wheels. The room feels so much more open, airy and clean, and there is SO MUCH ROOM FOR ACTIVITIES! Being able to move my laptop and cam around anywhere is going to open up a lot more possibilities for sexy times and fun shows. Oh, and every light bulb has been replaced with an LED bulb, so it should be much cooler and energy efficient!
I'm happy. I sort of feel like I've reinvented myself as a cam girl. It's refreshing.
Before the change... what a mess!
Oh my, it looks so big when it's empty!
Rigging up my Ikea chair with wheels took some brain power and effort as well as multiple trips to the hardware store for failed attempts.
But after a full weekend of shopping, building, cleaning, moving and organizing, the result is phenomenal.
Onward and upward! Let's make some great memories in this updated fun space.