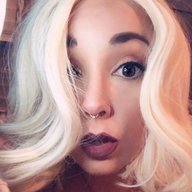 Oct 13, 2019
1
0
0
31
Twitter Username
MFC Username
What's up what's up?! I go by Lucy Fetastic and I'm fairly new! I am currently on MFC (Lucy_Fetastic). As an exhibitionist, this line of work has always been appealing to me. It has taken some time to be comfortable in my life and my skin to try it but I'm ready to give it a real shot.

I would really like to thank all the models who have put this forum together. It's a major help for those as myself are navigating these waters for the first time. I'm really looking for advice on how to keep viewers motivated when I'm working. I'm clueless as to what games I can play and how to dish out prizes, etc. I also wonder how any other single moms work a schedule. I have two small kids, 6 & 4 and the little one is only at school for 3 hours, not giving me a lot of daytime to work. I've tried prepping before they go to bed as well but I can't seem to get on camera as early as I'd like.

I'm sure there is lots more I need to know but for now I'm just happy to have some kind of guidance!