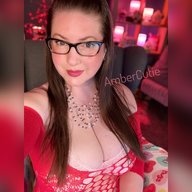 ACF Owner & Admin. (I don't work for CB.)
Staff member
Cam Model
Mar 1, 2010
26,061
111,969
0
Twitter Username
MFC Username
suchBabe said:

AmberCutie said:

Chaturbate question here:

Why do so few CB models put pics on their bio/profile page?

For a moment I was ready to reply with reasons for not putting any pics on our ACF profiles but I realize you meant our actual chaturbate profiles.

I don't have any pictures of myself in my bio (I have graphics and video stills but you can't see ME, really). Mostly because I never thought to put any there.

Chaturbate doesn't have a search feature for searching models offline, so if we're online, there's really no need for additional photos in our bio if you already see our stream. I guess pictures would be good to have for traffic our profiles we get while offline--however they come.
It's just so opposite of MFC, where girls obsess over their profile and pics are a big part of it. Weird to me! Maybe I view profiles differently because I constantly go to them when girls are offline for verifications and such.