Sep 30, 2013
515
235
173
38
Twitter Username
Chaturbate Username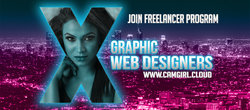 Camgirl.Cloud service is expanding it's platform and range of services with Freelancer Program.
With a centralised platform to support all necessary actions, functions and engagement for
CGC Freelancer Program
, our development department is currently testing it's new features ensuring good functionality and deployment.
What is Freelancer Program?
There's no simple answer but we'll try to skip all implied technicalities serving a simpler description for it.
Freelancer Program
allows registered and approved members to submit their own design/product/template and sell it trough CGC platform.
Who can join the Freelancer Program?
It's open for anyone with a bit of creativity, keen eye for aesthetic output and some editing skills. Yes it is a vague definition we know, but let's keep it simple.
Our program was developed as "alternative environment" to major websites/services like fiverr, freelancer, envato where adult-niche (creative web and graphic design) has no real support.
So, if you want to become a freelance web/graphic designer on CGC platform, to submit your work, sell it and engage with other webcam performers, pso or other freelancers feel free to do so. Don't be shy.
We've declined collaborations with some entities (websites, services) from this niche because we want to focus on providing a friendly environment for hobbyists first and web design companies last.
In this context I've personally created a collaborative
git
(work in progress) where we'll add materials, best practices, videos, codes and samples to help you get started.
Here's a video series showing how to code a full
Chaturbate bio design
from start to finish.
and yes... you can jump to the last video and grab the final code to use it freely in/with/as your projects (but please host your own images)
If you're interested in
CGC Freelancer Program
and need to know more, feel free to ask.
Create, sell, engage, earn.
Best regards, Dan N