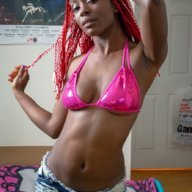 Oct 16, 2014
194
335
93
35
Twitter Username
Tumblr Username
Streamate Username
Clips4Sale URL
I've made this mistake before. I just assumed that because I feel a certain way about relationships that if there's ever issue a person will say something but maybe this is something I've put off thinking about much because I always had some other issue or thing to focus on. I've never had the easiest time with making friends, dating or letting ppl go and how ppl inevitably grow apart a lot of times. It's always been painful for me.

Sometimes ppl assume because of how they feel about the way I look that things are easy but they're not. I think looks don't factor in as much as ppl think. My personality is a bit quirky and perhaps on some level I'm still that little girl who feels fine by herself but with ppl doesn't quite trust that they're always being genuine, but I guess no matter what no one is always anything.

Yesterday I was thinking more... I was tagged in a few things and before it was how much I was this person's best friend and we talked more and now it's like new person is their best friend and thinking back I didn't even realize they talked much but I guess they do. That I've felt like a friendship out of convenience and this is true of many of my relationships in general. It's only been recently that I've felt at least a couple ppl are in my life not because they feel sorry for me or can use something to their advantage but because they genuinely love and care for me.

Perhaps they do still care on some level but there's been multiple times where I've found out things not because they told me but because someone slipped up and said something or had the discussion in front of me.... I've come to realize I don't really know this person anymore and we don't really have much in common.

Realizing this doesn't make it easier for me though.

Have you found that you've outgrown a relationship? What did you do about it? How did you cope? What are some good tools for handling these things better?

Perhaps I just need some space and time always... that seems to clear up a lot of things that get muddied by personal bias.