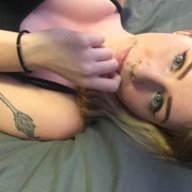 I haven't posted recently, hopefully will be back soon!
Inactive Cam Model
Aug 17, 2015
11
11
3
Twitter Username
MFC Username
I know I know, there are
lots and lots
of threads already about profile help and all that jazz, but when looking through them, (and it may just be me) I'm having trouble finding recent posts (most are from years ago) of camgirls and members alike advertising graphic design services. So I thought it might be quicker and easier to post about it here. Please keep in mind I don't regularly visit ACF so if there's a more appropriate space for this post or if I did something wrong, go easy on me! I'll delete it and move it upon request.
I'm looking for someone to make my profile on MFC for me. I would like to hire someone; depending on the cost and the quality of their work, of course. I'm looking for something fairly simple but clean looking, and even better if I can update it myself using my limited knowledge of html and css (it's annoying having to reach out every time you want to put up a new deal or something on your profile).
If there is anyone out there who can help me, or knows someone you might be able to help me, your feedback would be really appreciated! Post here, or for a quicker response, on my twitter or MFC and I'll get back to you.
Thank you!
PS. My twitter:
https://twitter.com/NausiicaValley