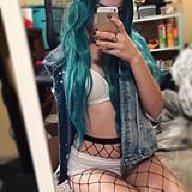 Apr 14, 2018
16
11
3
Twitter Username
Tumblr Username
MFC Username
Streamate Username
Chaturbate Username
I've been camming for about a year now, but I just recently started using mfc and have been having an issue no other site has caused me before; so I was wondering if anybody knew how to help solve it, or if it is even solve-able.
I keep getting messages on my Skype account, I typically just decline or ignore them because I know they're all scammers trying to take advantage of the fact they think I'm entirely new to the world of camming; but I accidentally fucked up I think on my first day and accepted a message from a guy asking if he could send me tip menu ideas and give me some general information about the site.
I took his sample tip menu as a consideration, and then asked him how he found my Skype. His response was that he and I quote "have my way of finding things", which I know you could probably use some type of image search/search for users similar to my mfc account one, but the way he said it just made me kinda uncomfortable. I just stopped replying after that, and for the next few days he messaged me a few times asking me where I went and if I was okay. At that point I asked him for his mfc user so that I could 'add him and pm him there' (actual intention was to ban him), and he said "oh and let you ban me? no thanks." and when I didn't reply just started telling me I was a "stupid slut for not accepting help and need to get a life, fucking loser", I'm not really upset about the shit he said, I've learned to tune out the trolls by now, but it's just a little aggravating that he can talk to me like that and I can't ban him because I don't know his user.
I was just trying to see if theres 1. a way to find his mfc user through his skype account and ban him, and 2. a way to make who can contact me on skype more private, or make it harder for people to find.
Thank you in advance to anybody who has any tips they think I may be able to use