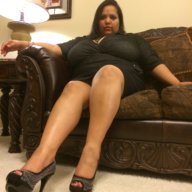 Sep 20, 2015
61
32
53
Twitter Username
MFC Username
Streamate Username
Chaturbate Username
I work on cam but I also have my own phone sex business and another job where I'm an adviser and give Relationship Advice.
I see girls playing music where its somehow going through manycam but you can't hear what they are saying.
I have manycam and I have tried to find out how to do this by looking up video's and searching google and I haven't been able to find it.
I don't even know what its called. If I did I would probably have been able to find out how they do it.
Olivia used to do it all of the time. By the way I miss her
I really need to know how to do this so that if I get a short call I can make it where they only hear the music and not my conversation. I can then type to them or focus the camera on my cleavage or tease them with gestures while I take my call. Heck I can even do a countdown for 10 minutes.
Anyway, If anyone has any idea on how to make the music go through the computer speakers or manycam where they can't hear me talk please advise. There have been times I was on cam and had a nice amount of people in the room and had to tell them I'd be right back because I had a call and then the call just lasted 4 minutes and I lost everyone in the room and had to start over. This would really help me. Thanks in advance
Gypsy