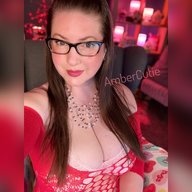 ACF Owner & Admin. (I don't work for CB.)
Staff member
Cam Model
Mar 1, 2010
23,774
104,913
0
Twitter Username
MFC Username
It felt nice to finally have a full weekend off after working the last 5 straight (mostly, I think I took one Sunday off during August weekends). We ran errands and did not too exciting stuff Saturday, but then got to relax with some TV and homemade tacos that night. Then Sunday kicked off Miami Dolphins NFL season and they actually BEAT THE PATRIOTS!! Holy moly, what a delightful shock!

Jawbs and I made awesome nachos with gooey cheese, jalapeños, onions and ground turkey. Kicked back a couple of Diet Cokes and enjoyed the morning game. Then we headed into our trees and took some somewhat naughty yet mostly clothed pics for my August Bake Sale participants, the raffle frame winners, and a short HD vid clip of me being naughty out there for my top 10 Cootie Killers! I hope to have that all ready by week's end.

Then we played some pool upstairs, played with the puppies, had taco salad for dinner. It was just nice to not have any commitments for the whole weekend, even though I did technically do some work on Sunday afternoon.

We have family coming into town later this week and quite a bit to accomplish by then, but it doesn't seem too daunting. It's the first time in a while I haven't felt overwhelmed with stuff. Whee!

So what did you do this weekend?