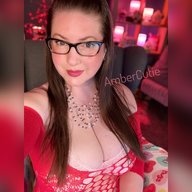 ACF Owner & Admin. (I don't work for CB.)
Staff member
Cam Model
Mar 1, 2010
26,614
1
113,400
0
Twitter Username
MFC Username
Remember none of the items are able to be tipped for until August 1st after 12:00am MFC time! (PST)

AwesomeAugust kicks off in the afternoon on the 1st! I should be on around 3:30pm, and plan to stay until roughly 9:30pm. I plan to have an afternoon cum show as well as one later in the evening, with countdowns to naked fun and other shenanigans throughout the 6 hour shift (that's a long one for me! Hah, I'm such an old-cam-lady now...) As you can see above, I'd love to finish top 75 for the month.

Last August we finished top 40 overall, so I think we can do this with everyone's help! And last August 1st, we made it all the way up to #2!!! While I doubt we'll have that grand of a kickoff again, it would be swell to get into or close to Top 20 on day 1.
If we happen to make it to Top 20 I'll end the shift with a Chocolate Syrup Shower Show!
/keeping fingers crossed...
Schedule:
You'll probably find me on cam every day except Sundays during this mega month. The better we are doing with rank the more motivated I am be on cam lots! Mon, Tues, Weds, and Fri nights I aim to be on between 5:30-9:30 Pacific. Thursdays will be late afternoon shifts, and Caturdays are TBA. (The first few days of the month, however, hours will be slightly different, keep an eye on Twitter.)

I'll spread fun countdown-events out throughout the month, but one thing I've got planned is a Cummathon Group Show! Before the group and during topless/naked countdown, we'll have goals on a Notch-Oh board for the # of cums to aim for!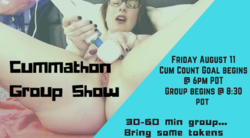 And of course August 28th is my Cammiversary party! Aiming to be on for a regular evening shift with some drinks and smiles to share with all my AmberLand friends!

Daily High Tip:
See graphic below!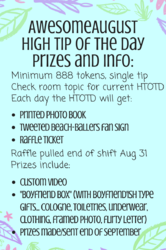 *The printed book is similar to a prize I had in an AwesomeAugust winners many years ago! The photos will be softcore but will include nudity. Books will be mailed out in September.
*The custom video raffle prize can be any sort of video, from non-nude poem reading to anal cum session to karaoke with nipple pinches. I don't roleplay or accept "scripted" requests, but in general I'll entertain your ideas.
*The Boyfriend Box idea is something I love. I'll get to send some special items out sort of like a long distance girlfriend would send their guy. Smelly stuff, sexy stuff, wearable stuff.
Crazy 8 Club:
See graphic below!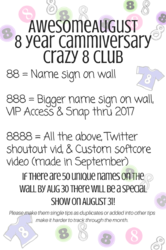 *The show idea I have is a messy food show... all over my naked self. Weird stuff, gross stuff, goopy stuff. We can work on a list of items together throughout the month!
Vid Bundle:
450 tokens = 3 videos.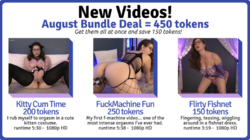 Note that you CAN buy the vids individually but get savings when buying as a bundle.
Snapchat:
275 tokens = access through the end of September. You alternatively could get Snap through the rest of the year by being part of the Crazy 888/8888 club!

My Annual NFL Jersey Raffle!
I'll start this halfway through the month as it is overwhelming to do a full month raffle!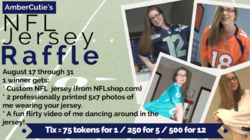 Top 10 Cootie Killers:

Finish on the top 10 scoreboard for August and get a special exclusive "Oiled up in the sun" video.



--------------
Sorry if that was a lot to take in!

I honestly cannot believe it has been 8 years since I began this crazy cam world. If you had asked me on August 27th 2009 if I saw myself being a successful cam girl gettin' all naked on the interwebs nearly a decade later, I'd have wee'd myself laughing at your inquiry.

I'm happily amazed at how things have worked out.


Thank you in advance to any and all of you who participate in my month. While I plan to have at least a couple more of these cammiversaries, you never really know what the future holds, so I'm going to cherish the time we spend together for this one.
​
Last edited: