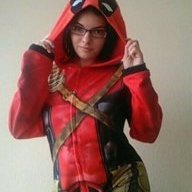 V.I.P. AmberLander
Inactive Cam Model
Jun 16, 2012
9,172
23,466
1,593
35
Twitter Username
Streamate Username
ManyVids URL
Ok, I really don't know how else to go about this, so here goes nothin':
For the past some-odd months, I've been getting told by a number or guys in my room that I and another model are very similar in certain ways, and/or that they believe we would have great chemistry etc. Ok, that's great. Um, here's the thing...I don't actually know her at all. I mean we've never chatted. She normally works hours that are when I'm in bed or otherwise unable to watch her (I did get a chance for like 5min, but that's it, so yeah idk). She has never directly contacted me, nor I her. I have nothing against her, in fact I'm very flattered, as she does come off as beautiful and intelligent. I do let models chat in my room, and have become good friends with many due to this. However, I really don't want people talking about models (even in a positive light) in my chat if I don't know them/have their consent. I started trying to tell members not to talk about this model a few times,but it didn't stop after that either it seemed like more just did it (yeah I know awkward). I don't want it to seem like I don't want to talk about her, because I'm afraid people might think I don't like her, when really I know VERY little about her.
New viewers in my chat don't necessarily know this though, and I don't want one of them saying to her how someone says something about her, I gave a look like "Please don't talk about her again", and that member chatted about some Steampunk-themed yoga she did. Her thoughts being "OMG Godiva hates me?! (which of course I don't), and "Steampunk-themed yoga show I've never done that?!" (I hate false information, which is another reason I want to know the woman to an extent first. Also no, no one said she did that show I made that up. Quit trying to find Steampunk yoga in model tags. I'm not naming anyone here.) :lol:
I'm merely writing this, because I don't want to keep trying to explain things in pm. Also, I want to warn members that it's great to have an excitement for a model, but bringing her up in a chat when the other model doesn't really know her can make things VERY awkward! Now I can just PM this link. I wish her the best of luck, and I DO hope to eventually see her for more than a few minutes. She seems like an awesome pseudo-doppelganger!