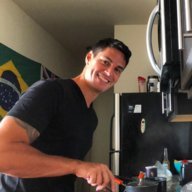 Dec 2, 2018
110
68
18
Twitter Username
Chaturbate Username
Hello ladies and gentlemen! New to the site, quick background on me and then on to the discussion.

I started camming on Chaturbate in 2015 after I got myself into a legal bind, (DUI, dont ever get one, crazy expensive). I felt desperate and was not making enough money with my normal job or my military school benefits.

I figured there is a market for sex so, why not. I cammed for about a year and got a decent following of mostly men obviously, and a few women. I was making great money and it helped alot with the legal fees. But then, I started to get cold feet. My followers were growing and my room attendance was way up. I started to see and be told by my mods that videos of me were all over the place.

I figured it would happen at some point but It stopped me cold. I was worried someone would see something I didnt want them to see. I was also doing a horrible job of keeping my real identity/real life away from my viewers. I never did anything "Gay for pay" but still, I dont want some disgruntled viewer messaging my friends videos or something from webcamarchiver.com or something.

Anyway, fast forward to 2 days ago where I got verified again on a new account on CB. My reasoning behind this was that the internet is forever. I will never be able to get those videos off from behind those paywall sites anyway. So why not just continue making good extra income for something that I enjoy doing? Right? lol I would also feel better if my shows were couple shows but no one has invented an app to find female cammers in my area. It seems more acceptable for a woman do do solo stuff then men, plus i'd rather be having sex anyway lol.

Which leads me to my question/topic of discussion. How can I limit my exposure? DMCA is obviously useless. What are the pros and cons ya'll see of camming? Money is good, but the longer you cam, the more exposure you get and the more videos of you will be out there. I guess I may be getting cold feet all over again. Does one just have to embrace the fact this is what they do and it will follow you forever? I wont be able to ever work for the government again I can tell you that.