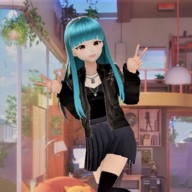 Mar 1, 2021
467
2
379
31
23
Twitter Username
Chaturbate Username
Hello's.
The topic comes up in here fairly often. So i'll post my situation.. for anyone's curiosity.
I joined this forums a year ago.. for its exceptional help with things like Shine.. ETC
As I was wanting to broadcast, but didn't want my face on cam hehehe.
As I have a professional job / am a public figure, that broadcasting would interfere with..
************
So i started broadcasting an Anime girl I made. Around Feb 2021
I got the anime girl hooked up with facial recognition, and movement camera's.
So the anime girls head/ face/ lips etc etc would move to match mine when i speak.
And the camera's would match my hands and body movements, onto the anime girl.
But then.. it was really hard/impossible to get my deep Australian male voice, to sound like an anime girls..
No matter how much voice software i ran my voice through, hehe
So I went looking for a broadcaster (Who had a quiet room) to partner up with to use her voice with the anime girl's programming.
************
I ended up finding a Colombian girl with a quiet room.
But then I didn't like how good/nice she was, working such long hours with an agency, and the agency taking their usual large % of that.
So I offered to help her leave the Agency, go independent, and swap to shine and multi platform broadcasting. A bit over a year ago.
And ive been helping her since. Since I couldn't end up partnering with her for the Anime girl project, Since she cant speak English, hehe
************
Started to be more of a couple a few months later..
Got online married (Non Legal) in August 2021, 6 months later..
Flying to go live with her as a couple in Colombia on Wednesday.. Land in Colombia on Saturday, for 3-6 months (Will apply for extended visa's after landing)
Then all going well with the trial living, will work out how to marry and where in the world we can live together permanently.
************
Will see how things go and end up..
But either way its been a beautiful year+
With nothing owed, and will never be any regrets.
And thanks for the forums, its been a valuable resource for my old anime project, and also helping the now girlfriend.
Regards.
Last edited: