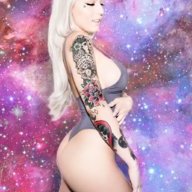 May 18, 2017
4
0
15
Twitter Username
MFC Username
so i just made a sext panther and sent a picture to a client (who asked for one of course)
i noticed it wasn't tallied into my earnings so i texted a girlfriend who uses it and she told me they have to click on the picture to open it and i will get a text after telling me they did so.... she also told me not to send him anymore until he opens it because she thinks they can see a thumbnail of the photo but isn't entirely sure. she explained that she has sent photos and they responded to the photo but it was never added into her earinings.
does anyone know what the messages looks like from the other end regarding pictures and video?
i am really not interested in continuing on with this if there is some sort of loop hole where the client can get free pictures just because they don't click on it, if that is the case thats ridiculous. i hope its not though cause i really enjoy sext panther and want to continue having fun with out feeling like i am going to get scammed.
so if anyone has any info that would be amazing
thank you.