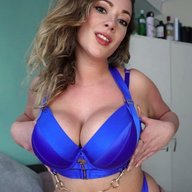 Nov 22, 2021
474
1
852
31
Twitter Username
MFC Username
Streamate Username
I've been debating with myself ever since my MFC camscore started it's steady decline, but been avoiding leaving because I'm comfortable with the setup. I've finally decided to get my ass in gear because I'm sick of only earning a couple hundred tokens a night when I used to earn several thousand. I need advice on where to go though.

There are so many pages on google comparing all the cam sites and the pros and cons for members/viewers but it's hard to find really thorough equivalents from the model's perspective!

I'm thinking no to Chaturbate - it sounds like it's too oversaturated and you have a hard time if you're not top page material (as a plus size niche gal, I am not that).

I don't know whether to go with another public/token site or a site like LiveJasmin where it's all privates (right?).

I'd also love to hear any recommendations for sites that don't use a camscore-type system - are there any that are basically randomised or something? I find the anxiety of worrying about my ranking and how it will affect my future earnings too stressful.

Which sites do I have to be careful with if I want to avoid my face being plastered over some porn site in an advert and have people who know me accidentally discover me? (Heard there's one site that does this on xhamster?)

On private-only sites, how difficult is it to get buyers? I prefer the sound of sitting in some private waiting room for someone to come in as a paying customer, than the irritation of sitting in a crowded public room full of freeloaders and timewasters. But, is that having too high expectations?

Also, which sites are compatible with each other if I was to join two at the same time and give splitcamming a go?

I know this is long but any and all advice and opinions would be really appreciated! MFC really is getting me down these days, I feel like I'm wasting my time and starting to dread it every time I go on cam, when I used to really love it and look forward to it. I want the fun back!