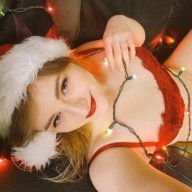 Nov 6, 2018
103
91
33
Twitter Username
Streamate Username
Chaturbate Username
So I've just started camming on Chaturbate and am struggling. I've done 4 shows, made a grand total of 69 (lol) tokens, and can only get around 10 guys on at a time, most of them either grey or unregistered. I don't expect to make much money or get thousands of followers right from the start, but I thought I'd see a bit more interest. From what I've gathered looking at other newbie posts, this is a pretty rough start. There are a few things I think might be the problem, but I would really appreciate some outside opinions. From models and viewers. If anyone's willing to take a look, here's my chaturbate and social media.
https://chaturbate.com/p/lilahmarquise/?tab=bio
https://mobile.twitter.com/marquiselilah
https://www.instagram.com/lilahmarquise/
I think these are some of my issues:
1. I wore a mask.
I know, I know. Despite all the advice not to. I don't actually care that much about the anonymity, but I love them combined with fetish gear and corsets. I was kinda hoping if I made it part of my look people might be more into it. But I've realized that a) Probably not enough people are, at least for a newbie in need of followers, and b) I don't have enough fetish gear yet to make the aesthetic work for multiple outfits. Anyways I'm ditching the mask next show. Maybe it's something I can add in every now and then if I get better established.
2. Inconsistent times.
My work shifts have been irregular lately which really affected it. But I now have a long stretch with very few shifts, and I've resolved to get a proper daily schedule going.
3. My prices are too high?
Okay I really have no idea if this is the case. No one seemed willing to tip, but I don't want to undersell myself either. I had a hard time figuring out my tip menu, because there seems to be so much variation between broadcasters, even ones at about the same level.
4. I don't talk enough?
I was relying a lot on my personality to engage people, but haven't been able to get much conversation going. I try to say hi to people joining in, and encourage chatting, but it's mostly crickets in response. I'm just not sure what to do when the room is that quiet. Do I ask them questions? Am I turning people off when I say hi? (I do dance around a bit and stuff, try to keep things interesting) Also, I see a lot of models list in their rules to keep dirty talk to PMs or tip notes. Not sure if I should do this or not as a beginner.
I was feeling really disheartened, and took some time off to sort of collect myself emotionally. I'm starting fresh tomorrow morning, and hoping that these changes with make a difference.