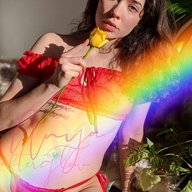 Aug 7, 2020
19
12
1
27
Twitter Username
Chaturbate Username
What are campeople's personal opinions on interactions with other models in streams (yours and theirs)?
My reason for asking - I've been introduced to a few other models through CB, either by members or them visiting my room and chatting with me. Some of them, I've gone on to develop friendships with - we hang out in each others streams, and support one another, and some I'm friends offline with. I love being able to hang out with other models and support people I'm friends with, but lately there have been a few members who think that because I'm pals with one or two honeys, that I'll start also supporting other models they watch (less popular than me currently but newer, we're both under 20k followers just to give context).
This expectation bothers me somewhat, but it's something I can deal with.
HOWEVER, I just found that one of these models (who has of the last two weeks taken to just popping into my stream, sitting silently for 5 minutes, and then leaving) has copied the exact layout of my bio image and also a large number of the words.
I'm pissed off because as someone who generally has under 100 viewers in my room, I kinda assumed I'd miss out on the viewer poaching antics etc? But this is bothering me because it feels like a really weird and low way to take advantage of my kindness and genuine love for the other models I make friends with. I don't ever want to block other age verified viewers while broadcasting because my close friend and I often cam at the same time and interact with both rooms and it's a total vibe, but I don't know what to do about this new situation because it's very foreign to me.
Any advice on how to deal withOUT getting super cranky would be appreciated

*edited because apparently I cannot type at 3AM*
Last edited: