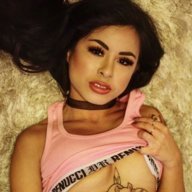 Jan 17, 2017
55
44
23
Twitter Username
Tumblr Username
Chaturbate Username
I recently encountered a scammer while negotiating a Skype show. Luckily for me I knew how to identify the scam, so the scammer didn't succeed. But I thought I'd post some tips on doing Skype shows for other girls who may not be as aware of these scams.

1. I read that most camgirls only accept tokens or Amazon gift card for Skype shows. I believe there are also other safe ways to accept payments (I'm not too familiar with those ways), but these two methods have been working out very well for me and they are easy for the guys too,

2. Don't accept Paypal for skype shows. Not only does Paypal has super strict policies against paying for adult services (plus a very robust investigation team), but a lot of guys know that and can use that against you. Apparently guys can report you to Paypal right after paying for your show and take the money straight out of your hands. Then Paypal can cancel all your accounts, not just the business one you use for camming! I'd say don't risk it.

3. When using Amazon gift card, educate yourself on what an Amazon gift card email looks like. It's pretty simple, has the Amazon logo all over it, but most importantly, the Amazon gift card balance can be applied to your Amazon account right away. If any guy tries to tell you that there is a "processing period" or anything like that, he is trying to scam you. Also, if the guy asks for any more info than your email while sending you your Amazon gift card, it is a likely scam. Guys only need your email address, and not even the one that is associated with your Amazon account. When you check your email for your Amazon gift card, always check that the email address that your "confirmation" email came from ends in the "amazon.com" domain. If it ends in "@gmail.com" or "@me.com" or ANY other domain, it's a scam. Scammers also often have small typos in their fake "confirmation" emails, so any typo is a dead giveaway. Another dead giveaway is if the "confirmation email" states your camming name on it, because you know that your actual Amazon account has your real name on it. Plus, like I said, the gift card doesn't have to be sent to the email associated with your Amazon account at all, so if the email claims that the gift card is somehow linked to your Amazon account, that's a scam.

Hopefully that was helpful for girls who are new to Skype shows. I wouldn't want anyone to get scammed like I almost was!