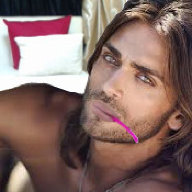 I did bad things, privileges revoked!
In the Dog House
Feb 23, 2015
3,862
4,249
693
Curious about this (mostly wondering how much of it is real vs. imagined). Had a little experience the other day that is really turning into quite a headfuck.

I was out the other day, and something caught my eye about a stranger. I made a polite comment, got a friendly polite response, then we went our separate ways. Nothing major really, in terms of importance it amounted to little more than holding a door for someone and saying 'after you'.

Thing is, a day or two later it dawned on me; years and years ago there was an eerily similar interaction with another stranger, only the roles were reversed. My polite observation from the other night was pretty much the same as the one I received from a stranger back then.

I would chalk it up to the fallibility of memory, perhaps me imagining things, except for the fact (real or imagined lol) that I mentioned the interaction that happened to me years ago to someone else I knew at the time, which in turn led into a completely unrelated discussion.