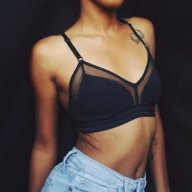 Nov 2, 2018
14
14
3
25
Chaturbate Username
I've noticed a lot of models have Amazon Wishlists in their bio, and it seems to be a registered list of items that they'd like their viewers to purchase for them. From what I've seen the items range from household appliances and car parts (??) to jewelry and clothing.

Is this a normal/ethical thing? Because I've already had someone ask me if I had a link to it on my profile and I was surprised because I didn't think people actually bought gifts and stuff for their favorite models.

For those of you that have a Wishlist and have received gifts from your fans, what exactly do you usually list and how did you set it up? Personally I'm a huge book nerd and would be BEYOND flattered if people bought me a ton of books to read!! But should I curate a list of things that will help my shows, such as toys and costumes? Or maybe a mix of practical "needs" and fun "wants"? I'm really not sure....

Help! How do?!?!