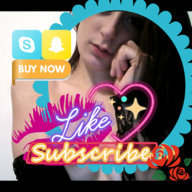 Dec 17, 2017
96
37
8
23
Twitter Username
MFC Username
Streamate Username
Chaturbate Username
My agent has recently setup my PSN and TWITCH profiles!
We have been able to find a decent amount of success through self promotion!
What we are looking for is a group of girls who play the game OVERWATCH.
This will require you to have PSN with a Playstation 4 and a Mic.
It would be mutually beneficial if you had OBS and a webcam!
This will be a team thing!
No longer will you work against every model, you will work with a few models,
all of you using each-others social medias and such to help each other out.
Essentially, the goal is to create a group of the hottest gamer girl/webcam models.
This will NO DOUBT blow any stream out of the water and it is a DESPERATE need right now.
I'm currently doing very well on MyFreeCams. My agent is very talented and together we can rule the roost!
Please feel free to apply via messaging me on here, Twitter or E-mail!
Missteebb97@gmail.com
@AaydaHeart