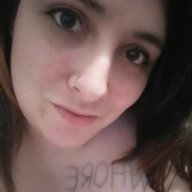 Dec 3, 2018
3
1
0
Twitter Username
Chaturbate Username
Hello everyone! I've been camming on Chaturbate for a little more than a week now and I have several questions that have been bothering me. I hope I'm not being repetitive with any of them because I did browse through several pages of the forum looking for answers and
did
find a few, but not all.
My first question, obviously, is what should I do when there's nothing going on in the room? So far I've been playing music and kind of moving my body a bit to the beat while smiling, but it feels awkward. I do have a regular customer who's come to all of my shows so far and we usually chat a bit, but otherwise, it's pretty quiet.
Another question: Should I always have a tip goal? Currently, I'm on Chaturbate and so far I've always had goals set up. I've only gotten past the first goal twice, and I've been switching things up with different prices and different goals, trying to see what works. Should I have consistent goals every time, or would that be too boring? What goals tend to work better?
A third: what do you do when your "friendly" time of the month arrives? I know there are strict rules on Chaturbate about discussing menstruation and I unexpectedly got mine in the middle of a show last night (thankfully I was able to hide it though).
Also, as a noob, what were your tip totals looking like, especially compared to what they are now? (Assuming you have more experience, lmao). I'm not sure if this is a taboo topic for models to discuss, but so far I've made about 3,500tk doing about 2-3 hours each night. Is that good?
Lastly, I saw another model on here (I can't remember who) talking about Streamate, so I found the website and now I'm intrigued, lol. Is it any good? How does it compare to other camming sites?
I apologize for the long post and the very numerous amount of questions, but I am very much looking forward to hearing from all of you. Thank you!