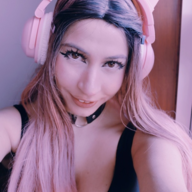 Nov 4, 2019
9
7
16
Twitter Username
Chaturbate Username
Hi
@punker barbie
and hi to everyone!
I work in CB since August 2019 and everything is been pretty good.
Now it's Carnival time and i was doing a carnival party with an outfit, basically i was "cosplaying" like a naughty nun without any acessories related to religion or offensive to the terms and conditions of CB.
I got warned twice about using work uniforms and i reply to the strike saying it was not a uniform but a carnival outfit.
Anyone please can help me, i got banned like 30min ago while i was working, my fanclub members are speechless because they went check the terms and conditions before i decided using the outfit!
Please im really worried!!
Im awaiting an answer please...
babykalina